Background
I am originally from Orchard Park, NY, home of the Buffalo Bills. While in college I decided I had enough of the cold climate and relocated myself to sunny Fort Lauderdale, Florida. There I obtained my Residential Interior Design degree all while enjoying the nice climate and southern hospitality. While living there, I met my husband and we decided to move closer to my family and friends in Pittsburgh, Pennsylvania. After a couple cold snowy winters, I was ready to move south again, so we decided to move to the Houston area about eighteen years ago, to be closer to his family, and I had the wonderful opportunity to transfer from my Prudential office there, to Prudential here in Houston. Prudential Texas eventually became Berkshire Hathaway. Several years ago, I had a great opportunity to join Coldwell Banker Realty.
While in Pittsburgh, I obtained my Relocation certifications, as well as achieved Winner`s Circle status. I am thrilled to be here, and so far have been lucky enough to have the same continued success, now having multiple years of being a multi million dollar producer. I look forward to working with you, and applying my knowledge of real estate, as well as my design expertise, in helping you buy or sell your next home.
Education
I have my degree in Residential Interior Design from the Art Institute of Ft. Lauderdale. I have also attended the University at Buffalo for Architecture. It is something I really enjoy doing, and would be happy to assist you in any decorating needs you might have. I have worked with home builders, and their clients, in helping make some of their decorating decisions for their new homes, as well as some free lance work on the side. Besides decorating, I love to paint, write, and find other creative projects to do. Please let me know, if I may use my creative mind to assist you!
Why Houston?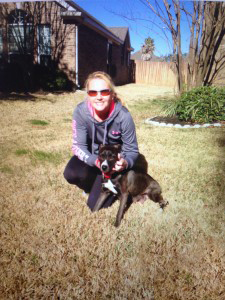 My husband and I moved here to be with his family. We are very family oriented, and wanted to be closer to enjoy as much time as possible, with his family. Houston has a lot to offer, and we are thrilled to be here. I loved Houston from the first time I ever came here to visit, almost 20 years ago.
My husband and I are part of the wonderful triathlon and cycling community that is here in Houston. This city offers events almost every weekend and plenty of outdoor activities for all.
Living in a couple different parts of the country, has allowed me to appreciate the wonderful real estate market we have here in Houston. I live in a wonderful community in Cypress, and often venture out into other neighborhoods, to make sure I know the market, and see what other neighborhoods have to offer. I also volunteer for CanCare and Memorial Hermann, helping recently diagnosed cancer patients get thru their journey a little easier. My husband and I volunteer with a few animal rescue groups to help rescue, foster, and adopt out dogs in the area. There are a lot of wonderful organizations in Houston to volunteer and help out with.
Why Coldwell Banker Realty?
Because I believe in their philosophies, and in their marketing programs. I was with Prudential for most of my career, and now I am with the other Blue & White company, Coldwell Banker Realty. We have a wide variety of marketing outlets that will get your property the most exposure to the public, as well as fellow agents. There isn't another Listing Marketing Program out there like Listing Concierge! I promise you!
Coldwell Banker Realty has a wealth of expertise and top notch technology. My office has a wealth of expertise and knowledge, as well as all the tools I need to make your transaction a fast and painless one. I am very happy to be part of this wonderful group of agents at Coldwell Banker Realty, and I look forward to working with you, and help make your buying or selling experience a positive one!