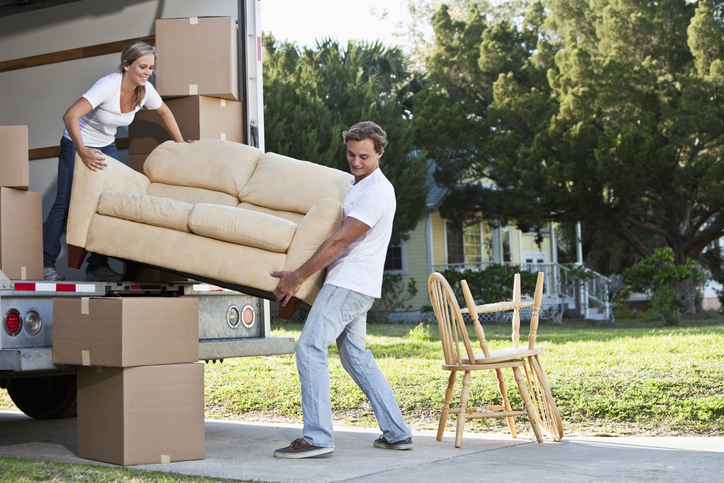 Some things in life are best done yourself. It's one way to experience them to the fullest. And though moving houses is one of life's most stressful decisions, getting a DIY moving truck for your home relocation is still a great idea!
In this article, we discuss the advantages of renting a DIY moving truck, along with a few tips and tricks to renting, loading, and driving your moving truck. With a DIY move, you canfollow your own schedule, save a few bucks, and have a mini-road trip with your friends. If you're planning to relocate soon, especially to the Houston area, this is a must-read.
Moving houses is one of life's most exciting, but also one of its most stressful experiences — much like any other big life change.
One sure-fire way to deal with any stressful situation is to meet it with preparation. Get to know the cost of living in Houston so you'll know exactly how much to spend on the move. That way, you'll still have enough left for other day-to-day needs once you're there. Plan your next steps and break down each challenge into manageable chunks. In this instance, let's break down the ins and outs of renting a DIY moving truck.
Why should you rent a DIY moving truck?
If you're still thinking about this idea's pros and cons, it's fair to point out the following reasons why you should rent a DIY truck for your Big Move:
Complete control over the move
It's more cost-efficient
You can pack things your way
Before renting your DIY moving truck
Here are a few things to consider before moving forward.
Is your paperwork in order?

To rent a truck, you're going to need a valid license (some companies have an age requirement as well), insurance, and a credit card or cash deposit.

When is the Big Move?

Figure out the official date(s) you'll be traveling so you can be sure when to book your DIY moving truck.

How far are you traveling?

This is so you can plan your route and potential rest stops, how much you'll need for gas, and for how long you'll be renting the moving truck.

What are you bringing with you?

Start fresh by getting rid of the things you no longer need (and probably won't need). It'll also save up space in the moving truck. Determine how much you're bringing along so you can pick the right-sized moving truck.
Once you figure these out, the next steps are going to be a piece of cake.
Renting a truck for your Big Move
Do your research on DIY moving trucks

There's no shortage of rental truck companies out there, so make sure to do your homework and find the best match for your needs.Some companies even have their own calculators to help you choose the right-sized truck. Other than that, look up details on basic and additional costs, like including toll fees, gas, and other micro-expenses.

Make sure you're insured for the move

There's no telling what might happen during your drive, so the next best thing is to be prepared. Make sure you're insured.

Different rental truck companies offer different kinds of insurance, so do your research to find the best fit for your needs. And keep in mind that some insurance policies only cover the truck itself, meaning you might need to get a separate policy for your cargo.

Book your moving truck (at least) a month early

Or even sooner, if possible. That way, you can be sure to get the truck that you need, and at the best price. Booking at the last minute may leave you with a different-sized truck and/or with rush fees to contend with.
Loading up your DIY moving truck
Boxes, bags, and/or cords

The basics: put items from the same room in the same boxes, label these accordingly, and group them together once in the truck. Mind the breakables; you can use soft items, such as old newspapers, resealable sandwich bags, or clothing as cost-efficient alternatives to packing peanuts.

Prepare moving equipment

Rent the necessary equipment, especially when moving heavy appliances and furniture. Check out the options from your DIY truck company or from dedicated moving equipment rental companies in your area to find the best deals.

Pack smart

Load the larger and heavier items onto the truck first. Make sure that weight is evenly distributed overall. Use softer items to fill the gaps in between the bigger items and pad the sides of the truck. Take note of the boxes with the most valuable belongings and, if possible, keep them close during the move.
Tips to driving a DIY moving truck
Practice driving your moving truck

This is where booking your DIY moving truck in advance comes in handy — practice driving it for a few blocks to get used to a bigger vehicle.

Prepare a route for the drive

With today's tech, it's easy enough to pull up Google Maps. That said, it's still a better idea to familiarize yourself with the route you plan on taking for the drive, and use the app as a backup instead of the main tool.

Moving permits

Other than the route, make sure to look up the moving permit policies in the areas you'll be driving to.
Moving to Houston soon?
There's little else that's as stressful, but there are exciting things ahead, especially when you start living in Houston. If you need help getting to know the Houston area and looking for your next home, get in touch with me, Jenna D'Amico, today at 832.381.4121 or jenna(at)jennadamico(dotted)com!