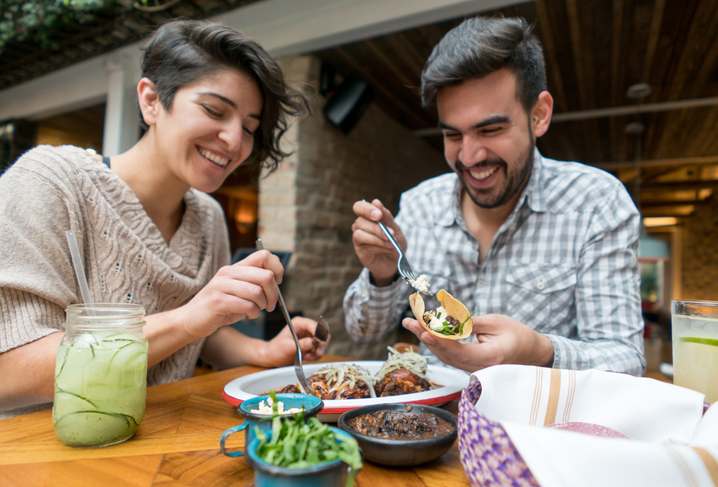 How often do you dine out? Houston residents average at seven times per week, besting every other city in the U.S. Whether you come as a group, a couple, or solo, you'll always find the best dining spot in Houston to satisfy your cravings.
If you're coming to the area with only Tex-Mex in mind, we don't blame you. In fact, a Tex-Mex food trip can be one of many fun things to do in Houston for couples, big groups, or for yourself. Then again, it's only just one of the many cuisines to try in the city. We've listed down seven of Houston's best and trendiest restaurants for you. Visit a space as creative as its dishes. Fan of throwback Thursdays? Take your pick from the '40s to the '70s. Taste a bit of everything at an elevated food hall experience.
The fourth-largest city in the United States boasts 2.3 million people. The largest city in Texas plays host to a diverse amalgamation of people, which is certainly reflected in its cuisine. Imagine any far-off corner of the world, and you can probably have a taste of its cuisine in Houston alone. And Houstonians can certainly attest to this, being dubbed as the leading demographic in eating out in the U.S.
Let's explore some of the fun places to eat in Houston that will keep you coming back for more:
Bravery Chef Hall
409 Travis Street (Aris Market Square)

An elevated food hall experience with an impressive variety of choices. Take your pick from 5 chef-driven restaurant concepts, complemented by 3 beverage operations.

Travel back in time to the '40s with a meal from Atlas Diner, best paired with coffee and/or cocktails from Secret Garden. In the mood for Italian? Try BOH Pasta & Pizza. How about Japanese? They serve great sushi at Kokoro. Bravery Chef Hall is a one-stop-shop for all your favorite cuisine, from some of the best in the business.

1100 Westheimer Road

Established in 2018 by award-winning chef Chris Shepherd, he named his steakhouseafterhis parents, Georgia and James.

The space is inspired by the art deco movement with a modern twist (c/o Jim Herd of Collaborative Projects). That's something you don't see in your typical steak place. The eclectic interiors certainly echo the quality and diversity of the gustatory treats here, from the dinner menu to the liquor list. It also made the Top 100 Houston Restaurants 2019, placing at number 12.

4444 Westheimer Road, Suite C180

This restaurant boasts another dining experience with a nostalgic throwback, this time to the '70s and '80s.

Coming from the minds behind BCN, MAD at River Oaks is the most recent concept from Ignacio Torras and chef Luis Roger. Renowned interior designer Lázaro Rosa-Violán brings Madrid to Houston through thisspace. He perfectly emulates the restaurant's modern Spanish-style cuisine through fine artworks and hand-blown glass chandeliers. MAD invites you to a nightclub-style, retro dining space where they serve tapas, paella, and wine with a twist.

2704 Polk Street, Suite A

Something many, if not all, Houstonians agree with: Nancy's Hustle is a staple in the EaDo neighborhood. Thanks to its many charms, it has managed to bring the local community together. They're known to serve the best of sweet and of savory food, but the definite must-try would be the Nancy Cakes. "(They're) an excuse to eat pancakes for dinner," says co-owner Sean Jensen.

As for the ambiance, it's cozier and more inviting than most modern bistros, thus contributing to a big part of why the neighborhood has taken such a liking to it. Nancy's Hustle was proclaimed Eater Houston's 2018 Restaurant of the Year.

2704 Navigation Boulevard

If you're looking for good Tex-Mex in Houston, thenthere's no better recommendation than the Original Ninfa's on Navigation. This is where Mama Ninfa created the first fajitas dish, originally called "tacos al carbon."

Now under the management of Executive Chef Alex Padilla, Ninfa's continues to be a Houstonian favorite. The menu has been restored, updated, and improved recently since its founding in 1973 to match the contemporary crowd. They've also branched out to Uptown Houston, so there's no excuse not to check it out.

1424 Westheimer Road

Penny Quarter is in good company in Montrose, with cozy cafes and an ample dose of culture.

It stands out as the newest restaurant from Justin Yu and Bobby Heugel, the duo having opened Better Luck Tomorrow in 2017 and Squable in April 2019. Penny Quarter opened in August 2019, and it features a mid-century modern interior for their two-story space.Designed by Houston-based Garrison Design Office, this café will surely make anyone feel right at home, completewith greatfood and refreshments.

1777 Walker Street

Regarded by the Houston Chronicle as the best in their Top 100 Houston Restaurants in 2018, Xochi serves the best of authentic Mexican cuisine.

Xochi is unique for both the food that they serve and the story they have to tell. Chef Hugo Ortega takes inspiration for this concept from his childhood in Mexico's primary culinary stronghold and the one-of-a-kind experience one goes through after a good meal. He opened Xochi to celebrate the "culinary and indigenous richness of Oaxaca" to create the perfect, creative balance between traditional and something entirely new.
Houston is not running out of fun things to do any time soon
Are you relocating tothe area soon? Get in touch me, your expert Realtor Jenna D'Amico, and get the very best that Houston has to offer. Call me today at 832.381.4121 or send an email to jenna(at)jennadamico(dotted)com!