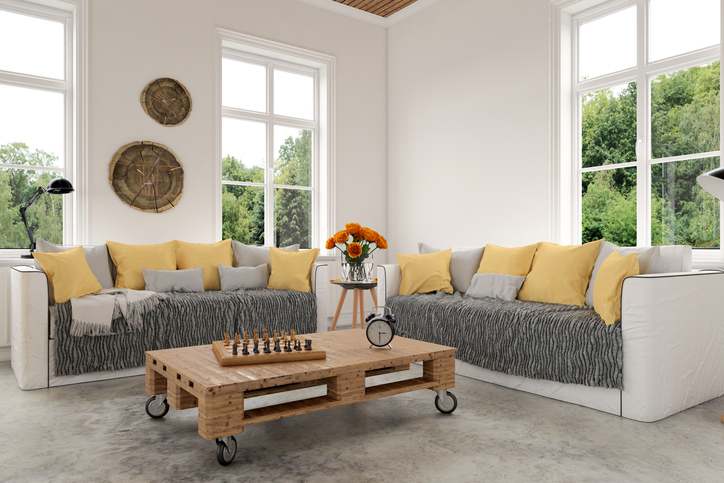 While there's no shortage of reality shows featuring open houses, first-time home sellers may still need help in going about with it. If done right, learning how to get your house ready to sell by staging your home can lead to great results come resale time.
According to a 2019 National Association of REALTORS®profile, 83% of buyers' agents found that staging a home makes it easier for a buyer to visualize the property as their future home.This validates the idea of home staging as being a big part of the selling process.
Get in touch with real estate experts in the Houston area, master the real estate market. and get your house ready to sell quickly with these home selling tips.
Studies into buying and selling real estate properties reveal that for 83% of buyers' agents, staging a home makes it easier for a buyer to visualize the property as their future home. Meanwhile,22% of sellers' agentsnote a 5% increase in the value of buyers' offers for a staged home, compared to offers made on non-staged ones.
With these figures showing how staging a home can be all good, you're better off trying it out yourself to maximize the earning potential of your own Houston home. Here are some effective home selling tips from the experts.
Get your house ready to sell!
When staging a home, think only of the essentials. Sometimes it's as simple as touching up the walls with a fresh coat of paint but it can also be as extensive as repairing the whole property's plumbing. It all depends on how you've been maintaining its amenities since you moved in.
We've got some helpful advice on stagingfor a quick home resale that may even save you money in the long run. Read on:
Spic and span, inside and out

Boosting your home'scurb appeal can go a long way. Remember: first impressions last, so before potential buyers even step foot inside the house, make it a good one. After all, what's more attractive than a neatly kept space?

For the exterior. Other than making sure the surroundings are clean, you can also repaint your front door, place some nice seatingon your porch, or install some low-maintenance plants. You won't have to spend too much onthese; you can even do all these on a weekend!

For the interior. Do remember to de-clutter every room, as recommended by 95% of buyers' agents. While it's nice to know that the space has been loved and lived in, nobody wants to buy a messy home. Aside from dusting up and vacuuming, you can also renew worn-out floors and carpeting, put up new wallpapers, change curtains, and freshen up tiling.

Determine focus areas

Some rooms need more sprucing up than others. When viewing a home, 47% of buyers consider the living room as one of the most important rooms to stage, followed by the master bedroom at 42% and the kitchen at 35%.You can stage these rooms first, then the rest of the house second. It's all well and good if you're eager to splurge on staging your home, but you're sure to earn more on your resale if you spend your money wisely.

Stick to the basics

Help potential home buyers visualize what it would be like if they lived in your house.For them to do so, make each room as impersonal as possible. That way, it'll be easier for buyers to picture themselves in a simply decorated space than in a theme park of a house.

The idea is to keep the home design neutral, but don't remove color altogether. A hint here and a pop there will work wonders. It can even be as simple as adding a bowl of fresh fruit in the dining area or placing books with creative covers in the living room.

Let the light in

Let's talk science for a minute: exposure to sunlight helps the brain produce serotonin, anatural mood stabilizer thathelps you feel calm and focused.Whether you have floor-to-ceiling windows or traditional-sized ones, it's always a good idea to let the light in. You can even emulate a bright (and open) space with a clean and light wall color and well-placed mirrors.

Detach from the house

It's natural to grow attached to a home and fill every room of items with sentimental value. But if you're about to sell your home and the staging process ensues, you need to take these outbefore a potential buyer views your home. The only time you can leave personal mementos that potential buyers may appreciate is if you intend to sell them along with the house. Avoid the awkward situation of buyers wanting to keep a particular piece of artwork hanging in the living room, only to tell them that it's not for sale.

A hint of green

We can't always spend our days outdoors, especially for those of us who prefer the comfort of our own homes. Appeal to both ends of the spectrum by bringing nature into the space with someplants in every room. Adding greenery has multiple health benefits, such as lowering blood pressure and anxiety, as well as improving productivity.
Selling your home in the Houston area?
Selling your home can be quite stressful. Let me ease your burdens and help you get your home sold quickly and for a nice profit. I'm Jenna D'Amico, one of the best real estate agents in Houston, Texas. I'll assist you from finding comparable house prices in Houston so you can determine your home's value to closing time. Call me at 832.381.4121 or send an email to jenna(at)jennadamico(dotted)com!